Feta & Other Greek Cheeses
Once you have tasted the real thing, there is simply no going back.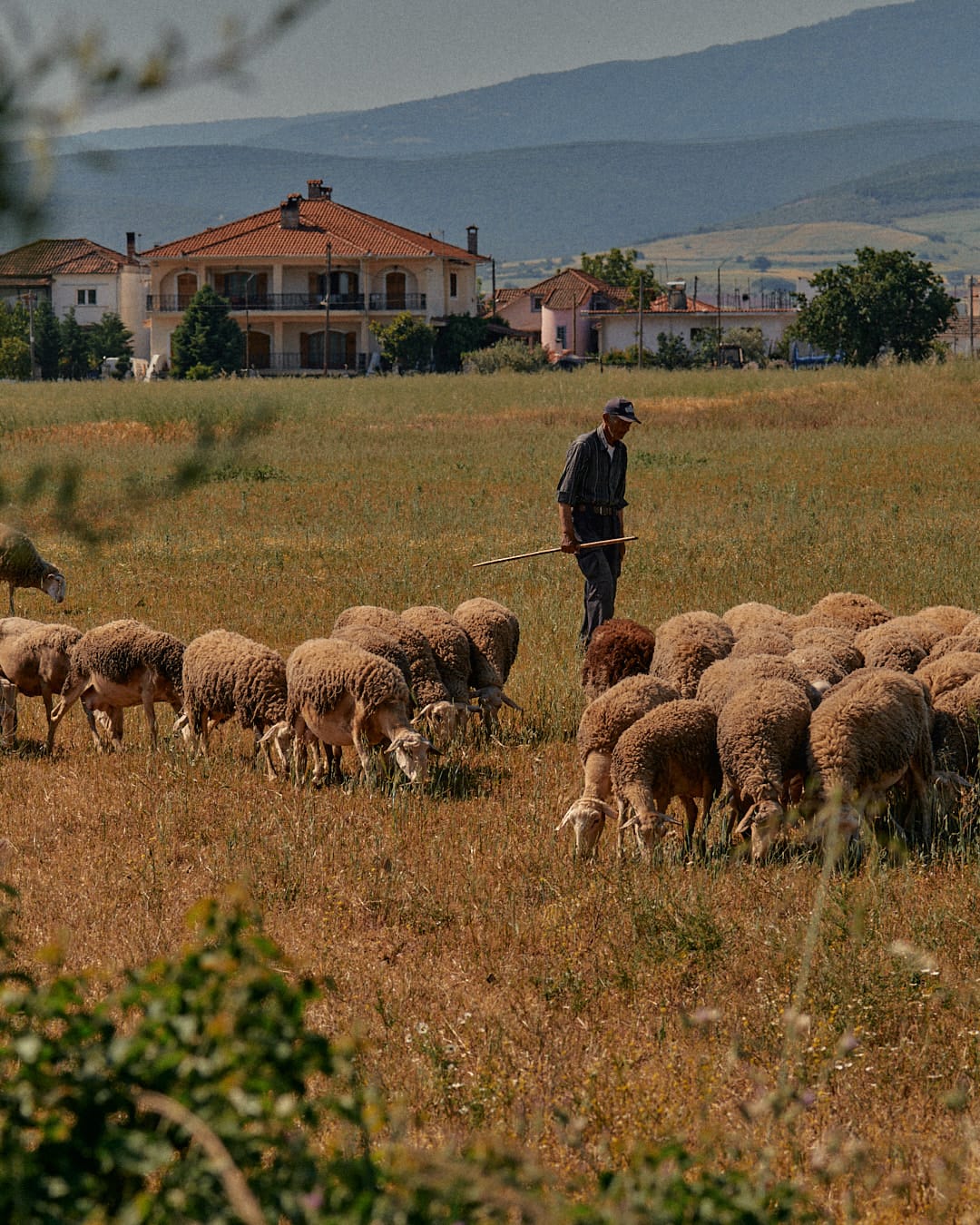 The evocative sound of hundreds of tinkling bells echoing across the rocky mountain foothills of Central Greece is one of many treasured memories of a recent visit to film a story about authentic Greek cheese for Cheese Slices.
In this remote region flocks of hardy sheep and goats still roam free, grazing on the wild scrubby undergrowth and herb scented slopes for at least nine months of the year. It's a scene that has been repeated for thousands of years and the milk of both animals is fundamental to understanding what makes Greek cheese special. The longstanding tradition of blending milk was originally devised by nomadic shepherds for practical reasons, and cleverly utilized the goats intelligent inquisitive nature to lead the 'stupid sheep' to the best grazing locations.
The significance of Greek cheese is grossly underestimated. It pre dates all other European cheeses made from cows milk, and the French name 'Fromage' and Italian 'Formaggio' stems from the Greek word 'formoi', a reference to baskets used to drain curd during cheesemaking. Whats more the earliest written records of how to make cheese date back to the ancient Greeks who very wisely regarded it as 'food of the gods', as well as providing essential nutrition for mere mortals.
Milk and yoghurt have always formed an important staple of the Greek diet and there are literally hundreds of different types of cheese made on the mainland and islands, many of which have never been documented. The majority are fresh salted cheeses, sometimes matured for a few months under olive oil or wine, but unlike the cheeses of Northern Europe they are frequently used for cooking both savoury and sweet dishes, as well as being crumbled into delicious salads on hot summer days.
Any one who has been lucky enough to enjoy the generous hospitality of Greece for just a few days will understand why the locals eat more cheese per head of population than any nation on earth.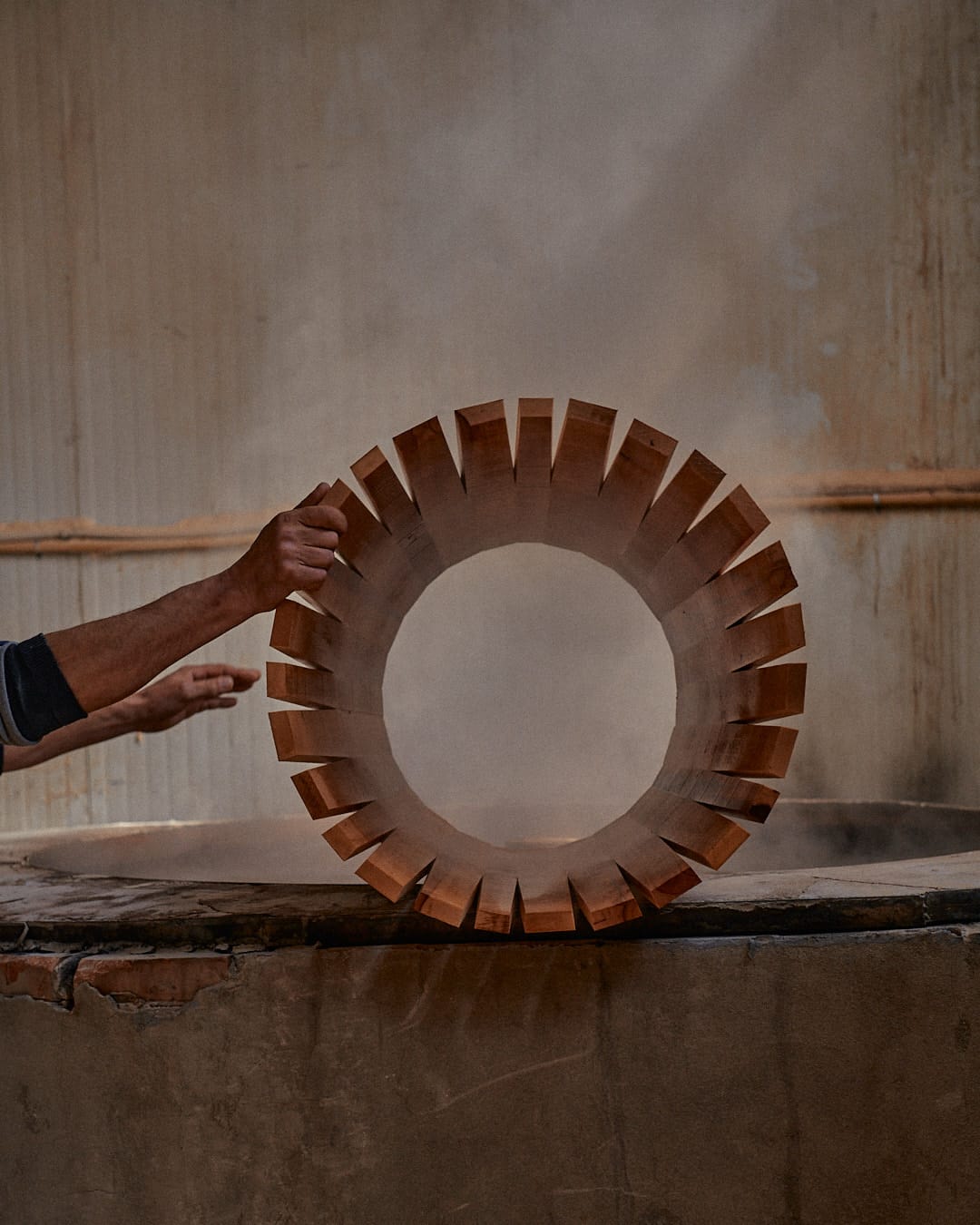 We had arranged to visit the Roussas family dairy near Almyros, one of twenty small producers still maturing Feta in wooden barrels. Watching the cheese maker carefully practice his craft was predictable for this simple cheese, but what I had not anticipated was the astonishing amount of work and skill involved in maintaining the barrels. To avoid 'woody' flavours old wood is preferred and after each batch of cheese has been matured in a barrel it must be dismantled stave by stave, washed, and then reassembled before it can used again. The Roussas dairy had a special room dedicated to cooperage, and the barrels here go through the system for up to 7 years.
The barrel subtly influences the flavour and texture of the cheese through natural cultures growing in the grain of the wood, and unlike tinned cheese the wood also enabled oxygen to reach the cheese inside as it matures. Each newly assembled barrel is smeared with a fresh salty whey cheese (myzithra) , and then packed with quarters of fresh white cheese in layers. Sun dried local sea salt is then sprinkled on top before the barrel is topped up with whey and wheeled away to underground cellars where it will spend the next 4 months fermenting and maturing. Opening a barrel is not easy either and requires a hammer and a far amount of patience, but once opened the taste of this cheese was a revelation; For the first time in my life I understand that authentic Feta can have a wonderful soft creamy milky taste and that ageing in barrels will develop intense aromas, soft melting textures and complex peppery flavours.
So forget about bleached feta substitutes made from cows milk, or washing the salt off industrial Feta, because once you have tasted the real thing there is simply no going back. The good news is that you don't have to visit Greece to taste barrel ripened feta because its available in Australia and US in good specialist cheese shops (Aphrodite Feta), and if you want listen to the sound of sheep bells, or see how its made, just watch the Cheese Slices!
Other Authentic Greek Cheeses
Manouri: Literally meaning 'mother's', this exceptionally fine textured creamy cheese is traditionally made from leftover whey after making Feta. A small quantity of sheep milk cream is added to the whey before it is heated and the cheese curd is skimmed off the top and drained in long canvas tubes which are slowly twisted to ring out the whey and condense the cheese. Delicious drizzled with honey.
Myzithra: Made from leftover whey and added sheep milk this cheese is the Greek equivalent of Italian Ricotta. It contains less fat than Manouri because milk is used instead of cream and it is sold either as a fresh crumbly cheese a few days old when it is commonly baked in pastries, or hard, pressed, salted, and aged when it makes an interesting grating cheese.
Kasseri: The most authentic examples of this stretched curd hard cheese are still made the traditional way in Thessaly, and kneaded by hand. Predominantly made from sheep milk the best examples are aged for at least a year and have a delightful aroma and rich underlying sweetness which is ideal for a true saganki and as part of a cheese plate.
Graviera: The most popular Greek cheese after Feta is loosely based on Gruyere although the wheels are much smaller and rarely have a natural rind. Although made all over Greece from goat, sheep and even cows milk the best examples are made in Crete from pure sheep milk and have a slightly sweet caramel flavour interspersed with a salty finish – ideal for baking