How to create the Perfect Cheese Board
Will talks out the secrets of getting the cheese board right every time in this informative blog
If you don't remember the days of mousetrap cheddar cubes speared with tinned pineapple, or stodgy bland brie served with crunchy strawberries you are lucky. The concept of entertaining with cheese has changed dramatically in the past decade largely due to a growing interest and expanding the range of specialist cheese varieties.
Carefully selected traditional cheese is one of most satisfying, convenient, and natural pre – prepared foods you can buy. Furthermore the pleasures of sharing well-made cheese at its absolute peak is such a memorable experience that it inevitably it leads to wanting more. The secret of getting it right every time is simply a matter of careful choice, and presentation.
When buying cheese it's crucial to remember that flavour comes first. The most interesting varieties are inevitably handmade artisan or farmhouse cheeses which vary in quality from day to day and season to season. You are unlikely to find delicious examples of these amongst the predictable pre- cut  wedges at your local supermarket, and any meaningful  selection requires a visit to a reliable cheese specialist. Here you can taste and choose the best on offer, which is not something that should be hurried.
Good cheese shops are recognisable by the range of natural cheeses they display, and the sensory experience that hits your nostrils when you walk though the door. When confronted by a huge tantalizing choice it's easy to get confused. Trust your intuition, and the enthusiasm and knowledge of the person behind the counter. They are an important guide to what is good on the day. You should allow for no more than 50gm of a cheese per person, but it's hard to resist getting carried away and buying too much. Any selection of more than a few cheeses tends to get very complicated, and my advice is to keep it simple. One sensational cheese in perfect condition is far better than  four or five mediocre types, and has the added advantage of being easy to match with a single wine.
Below are a few seasonal ideas for entertaining with a single benchmark cheese.
This soft creamy cheese from the Franche – Comte region of France is packed tightly into thin wooden poplar box. It never fails to delight when served warm. Simply splash  some wine over it and bake in the oven at 180 c for 12 -15 minutes. Serve with a pinot noir and strips of crusty bread to dip into the top.
This double cream cheese is a guarenteed crowd pleaser.  The sticky rich creamy texture beneath its fluffy rind has a balanced acidity, and for a guaranteed wow factor serve it with the top cut off and a spoon, accompanied by crusty bread and a sparkling wine.
Stilton is a traditional Christmas cheese in England and there is something very comforting about enjoying its creamy blue sweet salty tang with a glass of port during the festive season. But don't get caught in the stuffy image. It also makes a great party cheese when cut into a ring and served with a spoon, light rye bread and fortified wine or even sparkling ale.
Beaufort D' Alpage
This benchmark from Savoie is known as the 'Prince of Gruyere' and the best examples are made in Summer when the cows graze high in the alps after the snows have melted. Each crusty wheel captures the rich diversity of herbage found growing naturally at this altitude and the condensed rich nutty flavour is a perfect match with dry Riesling and walnut bread.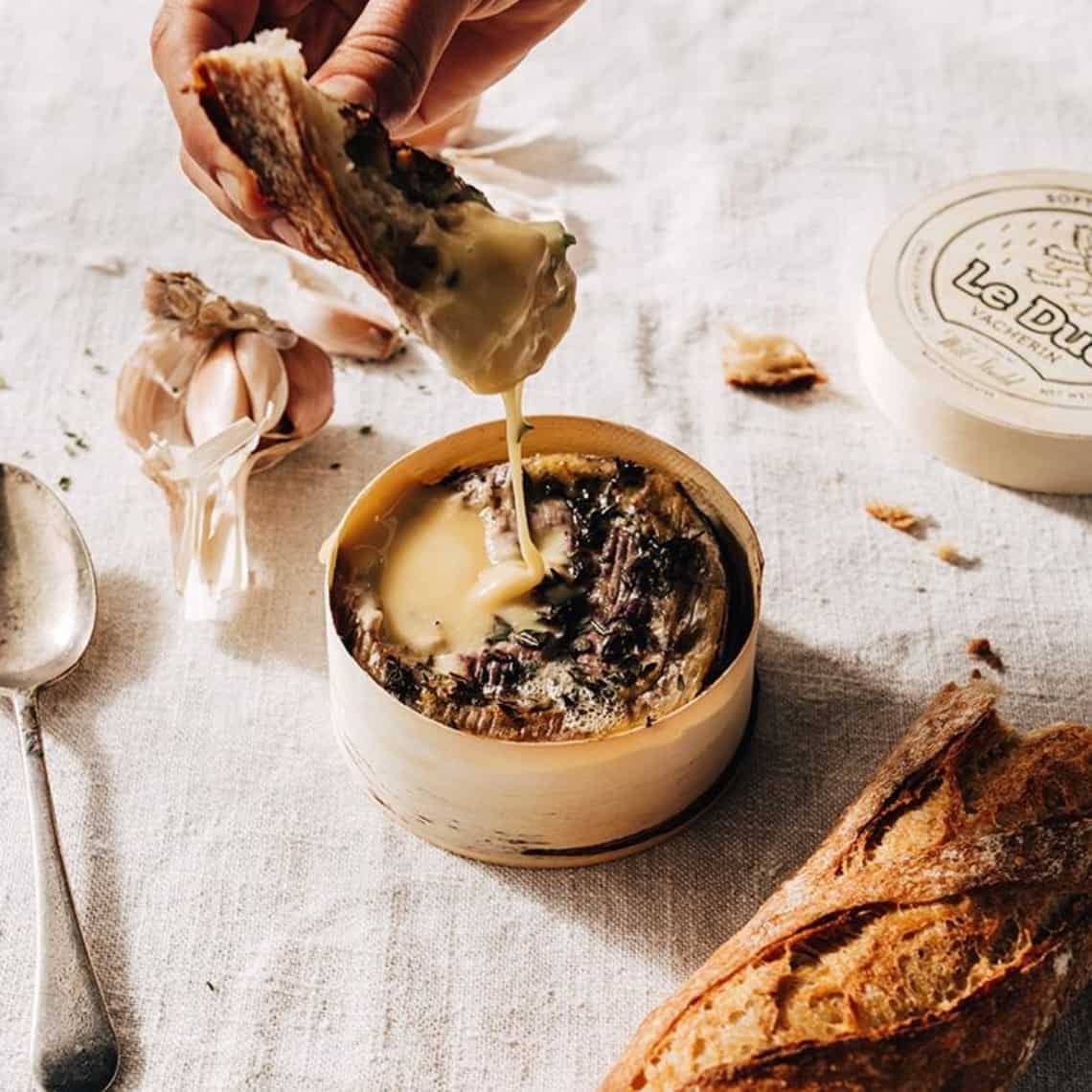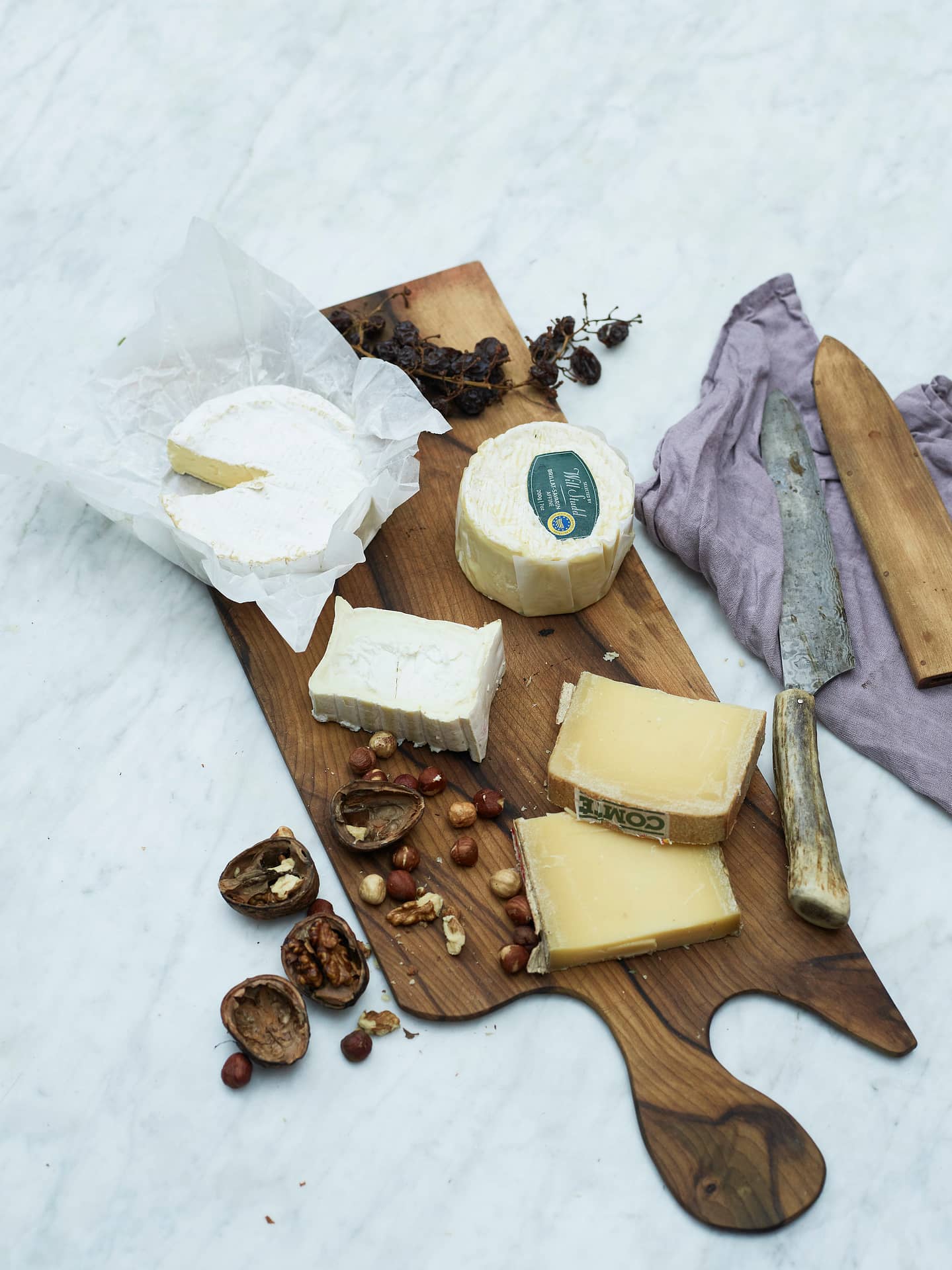 Temperature and humidity play an important role in both the storage and presentation of all traditional cheese.
Cool damp conditions are ideal. But these are very difficult to replicate at home which is why cheese should be bought as close as possible to when you want to use it. The best place to store cheese after purchase is in its original wax paper, or box, in the vegetable compartment of the fridge.
Great cheese will only reveal its true flavours and texture when served at the right temperature. It is a frustrating experience to witness a glorious, carefully crafted cheese ruined by being served too cold straight from the fridge. There is no excuse as cheese is best when prepared hours in advance.
Simply remove cheese from the fridge at least 2 – 3 hours before you want to use it, and arrange it attractively on a serving platter. Then cover with a clean damp linen cloth, or napkin, and place in a cool spot where there is not much airflow. The damp linen will prevent the cheese from drying out but still allow it to breathe, and ensure it slowly rises to ambient temperature.
When it comes to accompaniments the simple rule also applies, or you risk undermining the subtle flavours and texture of the cheese. Quince paste, dried Muscatels, or ripe pears, grapes and apples in season are popular. Personally, I don't bother with any extras apart from crusty bread and a matching wine, and I certainly don't recommend pineapple cubes or strawberries.