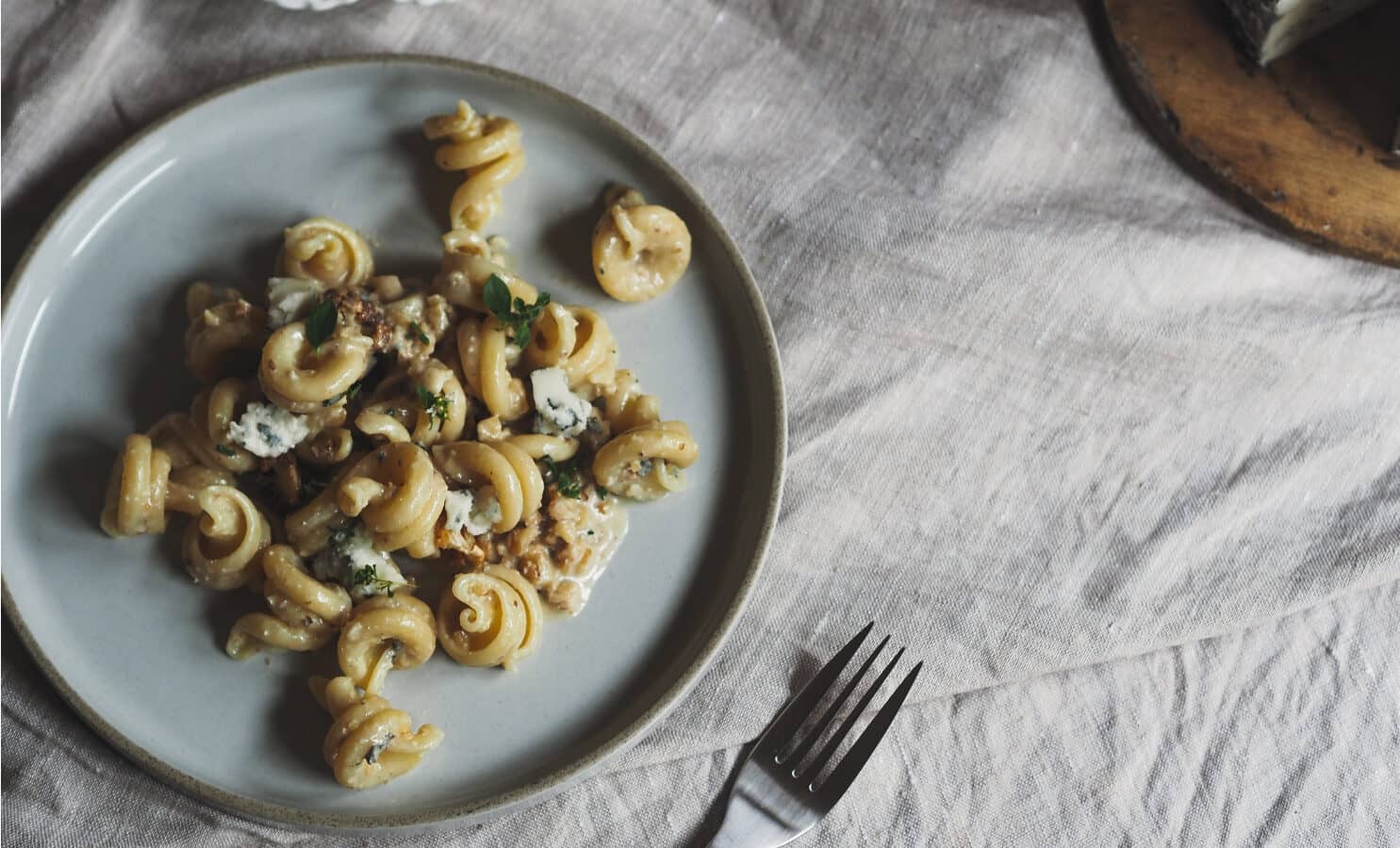 Roasted Cauliflower & Walnut Pasta with Le Marquis Chèvre de Rambouillet
Julia Ostro created this comforting blue cheese pasta dish especially for Will Studd.
The mild sweet Le Marquis Chèvre de Rambouillet paired here with walnuts and cauliflower, make for a perfect comforting pasta dish, especially when the weather begins to cool. Vary the herbs with what is at hand, thyme or sage would be lovely too. Similarly, the cauliflower could be replaced with roasted pumpkin, which is also a wonderful partner to this blue cheese.
Ingredients:
250g / 9oz cauliflower, cut into small florets
2 tbsp extra virgin olive oil
¼ tsp freshly grated nutmeg
2 small cloves garlic, peeled
125g / 4oz toasted walnuts
small handful of oregano, plus extra to serve
320g / 12oz short pasta, such as fusilli, farfalle or vesuvio
Sea salt and black pepper
Method:
Preheat the oven to 180°C | 350°F. Line a tray with baking paper.
Combine the cauliflower with half of the olive oil a generous pinch of sea salt and the nutmeg. Toss to coat then arrange in a single layer on the tray. Roast in the preheated oven for 15-20 minutes or until golden and slightly caramelised. Set aside.
Meanwhile, crush the garlic in a mortar and pestle with a pinch of salt. Add in the walnuts and continue to pound, lastly adding in the oregano. Pound until you have a rough paste.
Cook the pasta in plenty of boiling salted water until al dente, or according to the directions on the packet. Reserve ½ cup of cooking water then drain the pasta.
Warm the remaining olive oil in a large pan over a low heat and add in the pasta along with the cauliflower, garlic and walnut mixture and stir through the blue cheese until just melted to create a velvety sauce. If the pasta is too dry, add some of the reserved pasta water then season to taste. Scatter over fresh oregano and extra cheese and serve.