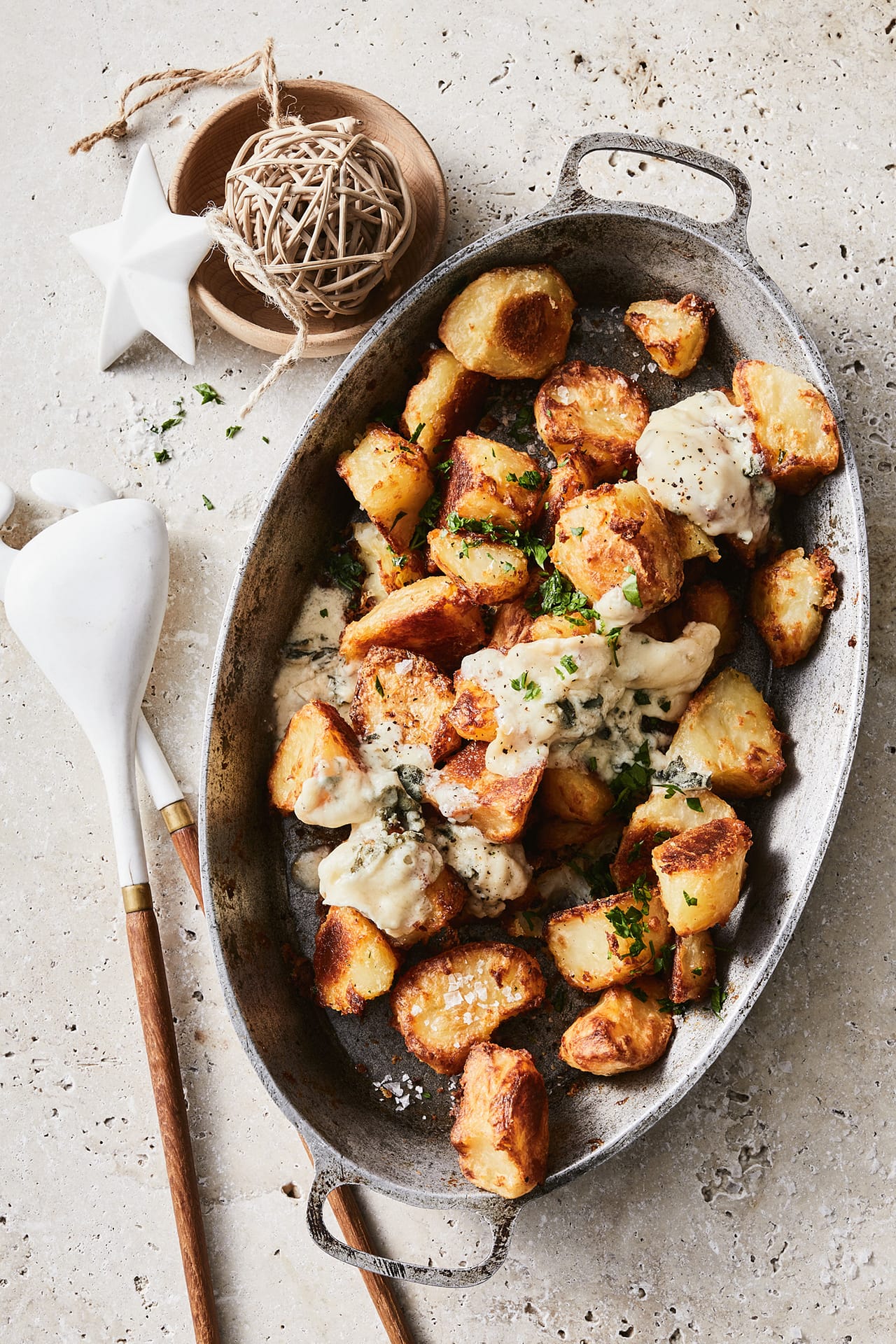 Photography by Brett Stevens.
Styling by Kirsten Jenkins.
Roquefort Roast Potatoes
The addition of roquefort brings salty, umami, syrupy sweet and punch to these crisp roast potatoes.
Ingredients:
1kg / 2.2lb desiree potatoes, peeled, roughly chopped into 5cm pieces
½ tsp bicarb soda
2 tbs finely chopped rosemary leaves
3 garlic cloves, crushed
2 tbs flat-leaf parsley leaves, finely chopped
Method:
Bring 8 cups (2L) water to the boil in a large saucepan over high heat. Add 1 tbs salt, potatoes and bicarb soda, and stir to combine. Reduce heat to low and simmer for 20-25 minutes until potatoes are soft.
Place butter, rosemary, garlic and freshly ground black pepper in a small saucepan over medium heat, stirring continuously, until garlic is golden. Strain through a fine heatproof sieve into a small heatproof bowl. Reserve garlic and rosemary.
Preheat oven to 230°C. Drain potatoes carefully and transfer to the bowl with the butter. Season and toss gently to coat. Transfer potatoes to a large rimmed baking tray and spread evenly. Roast, stirring occasionally, for 35-40 minutes until deep brown and crisp all over.
Crumble Roquefort over the potatoes, and roast for a further 3-5 minutes.
Transfer potatoes to a bowl and scatter over parsley and reserved garlic and rosemary. Serve immediately.